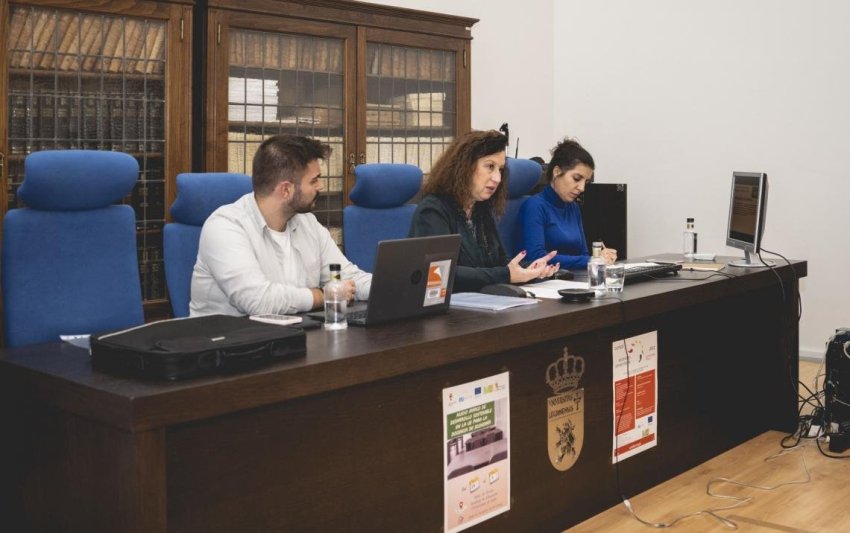 Carmen Fernández Cuesta gave a lecture at the Faculty of Education of the ULE as part of a CFIE course on sustainable development in the European Union for teaching economics.
Last week Carmen Fernández Cuesta participated as a lecturer in the European Jean Monnet Project EU-ECO-FIN of the University of León (ULE) whose session was held at the Faculty of Education. The conference was entitled 'From sustainable development to sustainability', focusing on the regulatory framework for sustainability information in Europe and in our country. Carmen Fernández Cuesta has taught at the universities of Oviedo, León, Navarra, Rey Juan Carlos and Alcalá, has a long history of research into economic aspects of environmental management and has been a member of the ICAC, AECA and AENOR working groups for the regulation of environmental business information and management.
This activity is part of the CFIE (Centre for Teacher Training and Educational Innovation) and the University Extension Course 'New framework for sustainable development in the EU for the teaching of economics' which began on 20 October and will run for several weeks until 9 February. The conference was followed by a round table with the participation of two members of the European project, Paula Castro and the doctoral student Adrián Ferreras, as well as the 24 on-site and 10 online students of the courses and other members of the project attending the event.
The Jean Monnet EU-ECO-FIN project is focused on the training of teachers of Economics of ESO, Baccalaureate and VET, in decisive aspects for the current economy of the European Union. Directed by Professor Mayte Tascón, the project aims to include the current framework of the European Union in economics subjects, through the incorporation and updating of the curriculum of subjects related to the current European economy, also highlighting the cross-cutting values of European citizenship such as freedom, tolerance and non-discrimination.
The key point of the proposal is to produce innovative teaching tools to improve students' self-awareness of European citizenship by highlighting the specific elements of the EU economic framework in which individuals, professionals, SMEs, large companies and public administrations live and work. On the basis of these transversal values (freedom, tolerance and non-discrimination), those parts of the modules' curricula related to prominent objectives affecting economic issues, such as sustainability with the 2050 horizon for zero emissions, the 2030 horizon for development cooperation, gender equality, and improving the financial literacy of EU citizens, will be updated.
More information: https://www.unileon.es/noticias/primera-sesion-formativa-del-proyecto-jean-monnet-sobre-sostenibilidad-economica